HAMILTON HOUSE PAINTERS
ONLINE PAYMENT INSTRUCTIONS
Once you have received your Hamilton House Painters invoice by email, you may choose to pay online instead of providing us with a cash, money order, cheque, certified cheque, wire transfer, or, direct deposit payment. You may also pay your invoice by Interac e-transfer through your online banking portal.
However, if you do choose to pay your Hamilton House Painters invoice
ONLINE
, via
PayPal
, either through a bank debit (with a
PayPal
account), or, the
CREDIT CARD
of your choice, this option is available to you. In the email you will receive containing your invoice, there will be a URL link for you to click, as below:
CLICK HERE TO MAKE YOUR ONLINE PAYMENT

(full instructions below... keep reading)
If this is your preferred payment method, please render the payment immediately upon substantial completion of the work.
*PLEASE NOTE: The maximum limit for electronic payments is $10,000.00. If your invoice is larger than $10,000.00, please use one of the other methods of payment.
You DO NOT require a PayPal account to pay by credit card . Simply click on the link in the email (as represented below - which is an excerpt from your invoice notification email) to pay online...

Please note: the link below will take you to a payment portal for "OTP Design-Works." This is the site, and payment gateway, for our online services provider - THIS IS CORRECT. Please pay through that portal when prompted:

CLICK HERE TO MAKE YOUR ONLINE PAYMENT
(please note - this is a demonstration link only, and is not operational. Please click the actual live link in your invoice notification email to pay online).
Once you have clicked the link as shown above, a window will open in your default browser, displaying our Hamilton House Painters invoice to you. In the top right-hand corner of the window is a green button named PAY NOW . Please click this button; it will redirect you through to the PayPal payment portal. See below: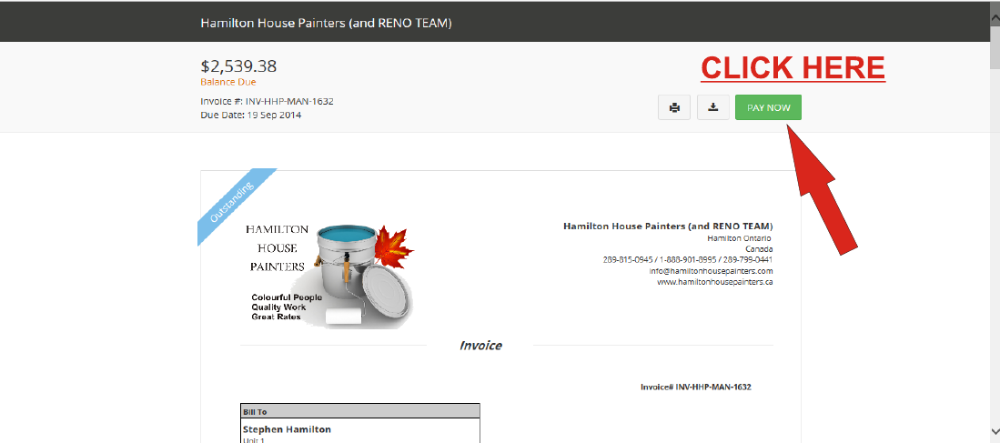 Once you click on the PAY NOW button at the top right of the screen, you will be asked to
PROCEED PAYMENT
... just click on the button: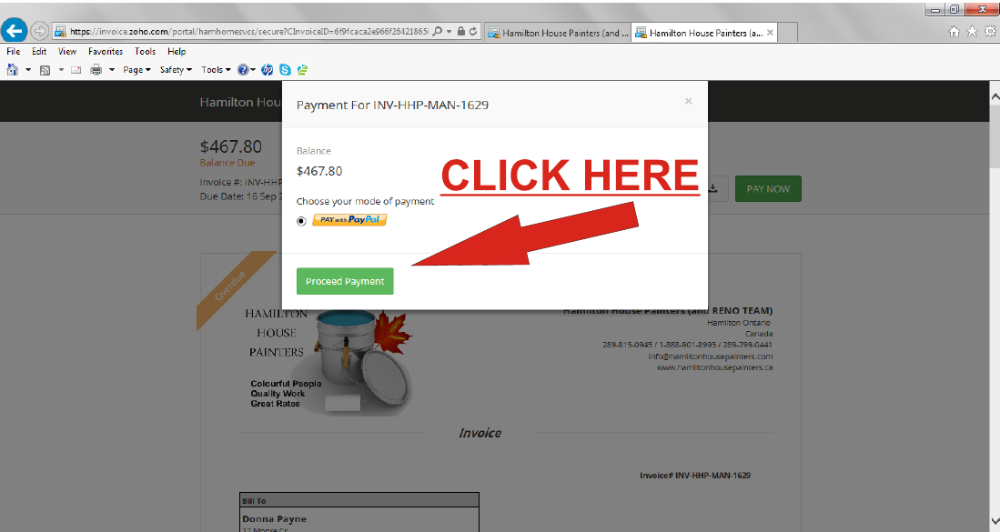 From there, the PayPal screen will open. You simply follow the instructions; you will either
"
sign-in"
with your PayPal login (if you already have an account and have your email address and password handy) and press PAY
, or, select/click
"
I do not have an account
" to proceed.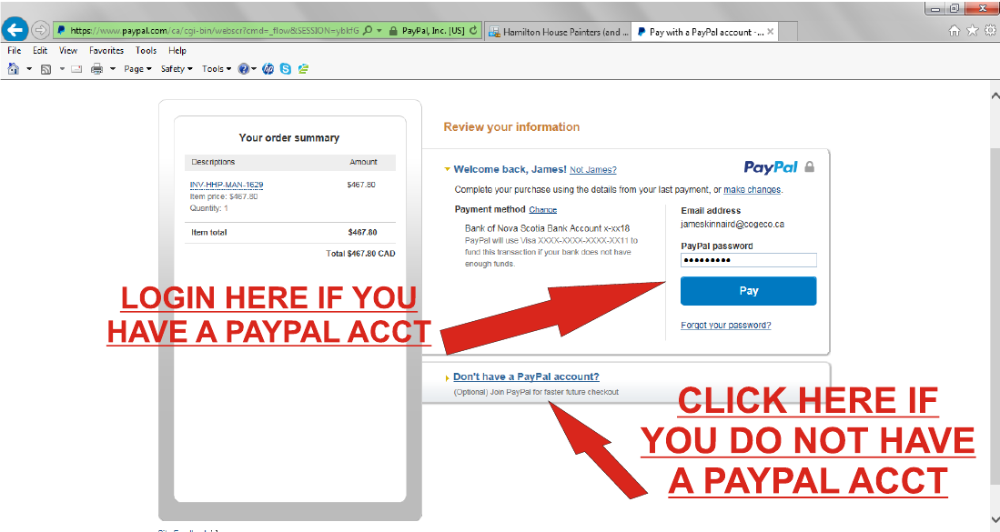 The rest is easy, just follow the instructions in PayPal to select your payment method; PayPal debit or crdit card if you have an account, or, CREDIT CARD if you do not...verify the amount of the charges, and, hit the PAY button located at the bottom of the page, and... viola! You are done! See below:
It was great working with you!
We look forward to working with you again.
If you are happy with your work and would care to provide a reference for us, or, comment on our service, please visit our "Customer Reference and Comments" portal on our website at:
http://www.hamiltonhousepainters.ca/customer-references2.html
If you have any questions of concerns, please do not hesitate to contact us at:
1-289-815-0945 Switchboard (Main)
1-888-901-8995 Toll-Free Long Distance
1-289-799-0441 Local Direct