EXTERIOR PAINTING
Painting the exterior of your home or commercial property is a huge undertaking that is best left to a professional painting contractor - for a number of reasons, which we will explore below...

Safety, quality and types of paints, know-how, and years of experience, and speed of project completion, are just a few reasons why you should contact Hamilton House Painters for your exterior painting jobs.
In order to ensure your complete satisfaction, our house painters begin and end every job with a personal consultation between you and one of our experienced Estimators or Customer Service Coordinators.
We are committed to provide the highest quality service, and professionalism, with each and every job we undertake.
Scheduling:
One of the first things we ask about are your scheduling needs. We want to make sure we can accommodate your needs - this is particularly true with exterior painting projects.
We maintain an online calendar application (the "BOOK IT NOW" button you will see on this page) that allows our customers to see what our schedule is like, and when they can book our services. We make this available online as a self-service option for those who want to book this way. Of course, you are always free to call or email us to discuss the scheduling of your job.
You can book online appointments for estimates by using the " BOOK IT NOW" button located in the left sidebar, and below on this page, and then by selecting or clicking "book estimate appointment" or project. Your request will be responded to within 24 hours, or less...normally within a couple of hours.
When an online appointment is received, the job is instantly put into our schedule database; you will receive a confirmation, and normally, a follow-up call or email. As the date draws closer, we will keep you up-to-date and informed. For exterior painting appointments, dates are subject to change, due to prevailing or forecast weather conditions, and other factors, such as:
1. WEATHER FORECAST - is the weather LIKELY to be clear of precipitation for the entire duration of your project.
2. TARPING / WEATHER PROOFING - if some precipitation is expected, is it feasible to tarp off the area to be painted to protect it from the weather?
3. TEMPERATURE - is the temperature going to be warm enough to allow us to paint, and, for the paint to dry properly? Cold conditions WILL impact the time needed for paint to dry.
4. WIND / DUST / PARTICULATES - is it too windy for us to paint? Excessive wind can drive particles and dust into your newly painted surfaces, destroying the finish. This can cause damage more expensive to repair than the original cost of the entire paint job! We do our best to ascertain the conditions, but, we cannot be held liable for "Mother Nature's" moods.
5. HUMIDITY - what will the humidity level be while we are painting? If it is too high, it can prevent the paint from drying properly, or, quickly enough...
PLEASE NOTE: except for "emergency" situations, we do not accept exterior painting bookings from November 15th through April 15th to ensure that you receive the best possible results from your exterior painting job.
Our Exterior Painting Process...



Start of project : Once you have approved your estimate and scheduled a painting project, our paint crew will meet you at your project site, at the agreed upon time. Our crew chief will explain the entire process, including estimated "timelines" for completion.

He or she will have a copy of your estimate, or a "write-up" of the job, that follows the specifications on the painting proposal. This ensures that all parties are on the "same page," before beginning the project. Once everything is understood and agreed upon, the project will commence.

During the Project : All painting work is done in an established sequence, and in accordance with paint manufacturers' specifications and suggested procedures, such as:




1. Surface preparation - i.e. washing, scraping, filling, sanding, etc... is done first. Surface washing may involve the use of a pressure washer, and/or a cleaning compound. Where possible, we prefer to use environmentally friendly cleaning agents.

2. Repairs to surfaces - in most cases, this is not needed, but, if it is, we can replace areas which may have rotten wood, or, there may be cracks in cinder-blocks or concrete which need to be patched with hydraulic cement, or a parging product. You may also require new caulking or sealants at seams, joints, or frames. We will inform you of this in advance (if seen in advance), and will provide a separate estimate for the repairs; repairs are always quoted separately and are not included in the painting prices.

3. Scraping - if the old paint on your property is degraded to the point of flaking off, it is advisable to remove the loose paint with a scraper, or, with abrasives. We will discuss this with you.

4. Painting - This is normally followed by a primer coat, and finally, is followed by the finish painting (one or two coats, or otherwise as needed).

5. Ongoing Quality Assurance - Our Crew Chief and/or Customer Service Coordinators will normally inspect the work periodically while it is ongoing, to ensure the job is running smoothly and according to plan, and, for quality assurance.

6. Clean-up - we will pick-up all garbage from the work area, and, will ensure the area is left clean and neat.

Project Completion : We will advise you a day or so before we expect to complete the work. This provides you with an opportunity to inspect the work, and, to ensure that nothing has been missed. It is also an opportunity for you to point out any areas you would like us to "touch up," if needed.

Our painters will then "wrap-up" the job, and take care of any touch-ups to your full satisfaction: WE PROMISE.




For more information regarding our procedures, please visit our PROCEDURES page.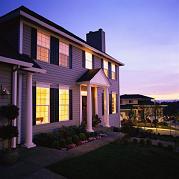 When thinking about selling your home, one of the relatively inexpensive things you can to do increase "curb appeal" is a beautiful, fresh coat of paint. After all, the exterior of the home is the first thing a potential buyer sees - and it is the first thing YOU see when you are coming home as well.
Let Hamilton House Painters make the exterior of your home "memorable."