HAMILTON HOUSE PAINTERS proudly serves the following areas with
COMMERCIAL PAINTING SERVICES:
Hamilton, Glanbrook, Binbrook, Stoney Creek, Flamborough, West Flamborough, Dundas, Waterdown, Aldershot, Grimsby, Ancaster, Jerseyville, Brantford, Burlington, Oakville, and, Milton
While it is said that imitation is the sincerest form of flattery, DON'T BE FOOLED by low quality imitators , or those trying to "cash-in" at your expense by trading on our good name ...
WE ARE THE ORIGINAL, THE ONE, and THE ONLY...
HAMILTON HOUSE PAINTERS, which was founded by Brian Jerome, Master Painter.
But wait! What about www.hamiltonhousepainters.com?

Isn't THAT the website for the ORIGINAL Hamilton House Painters??
YES! That is, indeed, our "ORIGINAL" (haha - see what we did there) website address. And, that website is still active. However, time marches on; it was time to refresh our look, our logo, and, our site content. But, if you prefer the old site, by all means, please visit it! If you prefer this one... READ ON!
What sets us apart?

We offer theHIGHEST QUALITY WORKMANSHIP, and care for your property, without the high prices of our competitors. Our Director of Operations and Training, Master Painter Mr. Brian Jerome, has over 30 years of experience providing exceptional home and commercial painting services, all over Canada. We areprofessional painters, and, ALWAYS want to make certain you, as our customers, are happy.
REFERENCES:we have MANY references available on request; we have provided painting services to HUNDREDS of properties. Many of them have given us permission to use them as references and would be pleased to speak with you... but remember... we may ask you to be a reference for us too!
WE WILL SHOW UPfor all estimate appointments on time. And, if we are going to be late for any reason, we will advise you in advance of the appointment. We will arrive to start your painting job on the day we say we will arrive. We believe it is important to keep our word - our reputation is important to us.
WARRANTY:we offer a ONE YEAR warranty on our labour. Please see our terms of sales, service, and warranty.
NO BOOKING DEPOSIT IS REQUIRED:we don't want to start our relationship with you, our customer, on on the premise that we don't trust that you will pay us... think about that. If we are privileged to win your business, and you book your painting with us, we will not charge you anything to reserve your job / scheduled date. We are just glad you chose to work with us...
RESPECTFUL:we know that your commercial property, office, or business is probably one of your most important assets. We promise we will treat it as such - with the respect it deserves... We also know that painting your office or business can be a major expense, and, in some cases, is something you have had to plan in advance to get done. We are consumers just like you, and will ALWAYS treat you with the same respect with which we would want to treated as customers.
FAST AND CLEAN:we will always give you our best and most accurate estimate as to how long your job will take. We will do everything we can to meet those time estimates. We will make every effort to keep your property clean, and to protect your property and belongings while painting. We will ALWAYS clean up after ourselves, and, leave your home in a serviceable condition when we leave. For more information on our standard procedures, please visit ourPROCEDURES page.
NO "OVER-BOOKING:"we do not "over-book" jobs by juggling resources to try and book as many jobs as possible. If we are too busy to take on your job when you want it done, WE WILL TELL YOU. In our opinion contractors who engage in this practice short-change all their customers.
LOW PRICES:we believe in offering you the best deal we can. We will NOT overcharge, or charge a premium if we think you need something done urgently. We quote every job the same way - fairly. We will quote you a fair price, and, we will make a fair profit. In most cases, our quotes / estimates come in well under the prices charged by our worthy competitors. However, please don't ask us to "reduce" our estimates... we assure you... you will be quoted the most competitive price possible, right up front.
LOWEST PRICE ON PAINT;unlike other painting companies, we DO NOT mark up the paints we sell you. You pay what we pay. We make our profit on the labour component of the quote. Why do we do it this way? A few reasons...
First, you may have a favourite paint or brand; you should be able to use that brand if you like. Second, this is the most fair way to do it in our view. If you want to be able to purchase your own paint, and save a few dollars on your job, we think that's a great idea. So, we took that idea a step further. We will purchase the paint for you, and sell it to you at OUR COST. We never charge for picking up the paint products. And, if you do decide to use the brand with which we customarily work (GENERAL PAINTS), you will receive our TRADE DISCOUNT on the paints. That's right - you will get our contractor discount rates - you will NOT PAY RETAIL PRICES. Please see more about GENERAL PAINTS on the OUR PAINT information page. In most cases, with our trade pricing, you will pay ABOUT HALF, or even less, than you will pay for comparable quality major name brands.
PAINT COLOUR SELECTION: if you intend to use our preferred paint supplier, General Paint, we can offer you a paint chip "swatch book" to assist you in selecting your colours from the comfort of your own home; no need to visit the paint store! Just ASK US for the "ColorLife" paint chip swatch book from GENERAL PAINT. If you would like to use a paint chip / colour from another major manufacturer, just give us the colour code(s) from the chip - we will have it matched. We can do this with paint chips from CIL/Dulux, Benjamin Moore, Sherwin Williams, Behr, and Glidden paints. If you select a colour from another manufacturer or brand, just provide us with the chip; we will have it scanned and colour-matched for you.
COMMERCIAL PAINTING SERVICES WE OFFER:
No job is too big, or too small. We have the resources and experiences to tackle the largest jobs, but, as far as we are concerned, we WELCOME YOUR SMALL PAINTING JOBS. Start to finish - we do it all.
• Whole-building service
• Painting programs for BUILDERS

• Area , "by room," "by suite," or, "by office" service
• Interior Commercial Painting
• Interior and Exterior Stairwells, banisters, and stiles
• Closets, bathrooms, and vestibules
• Interior and exterior trim
• Intricate work
• Interior and Exterior Doors, including metal doors
• Minor interior wall surface repairs, including drywall "dents"
• Major interior wall surface repairs, including hole repair
• Drywall taping, mudding, and sanding, following repairs
• High walls and ceilings are no problem
• Low-rise multi-storey buldings no problem

• Sprayer service on request
• Stains and gloss coats on wooden surfaces
• Exterior Commercial and Steel Roofs
• Soffits and Fascias
• Garage doors
• Wood, vinyl, composite, and aluminum siding
• Decks and fences
ASK US ABOUT OTHER HOME REPAIRS OR RENOVATION WORK TOO... see our RENOVATION SERVICES page!
We look forward to painting for you!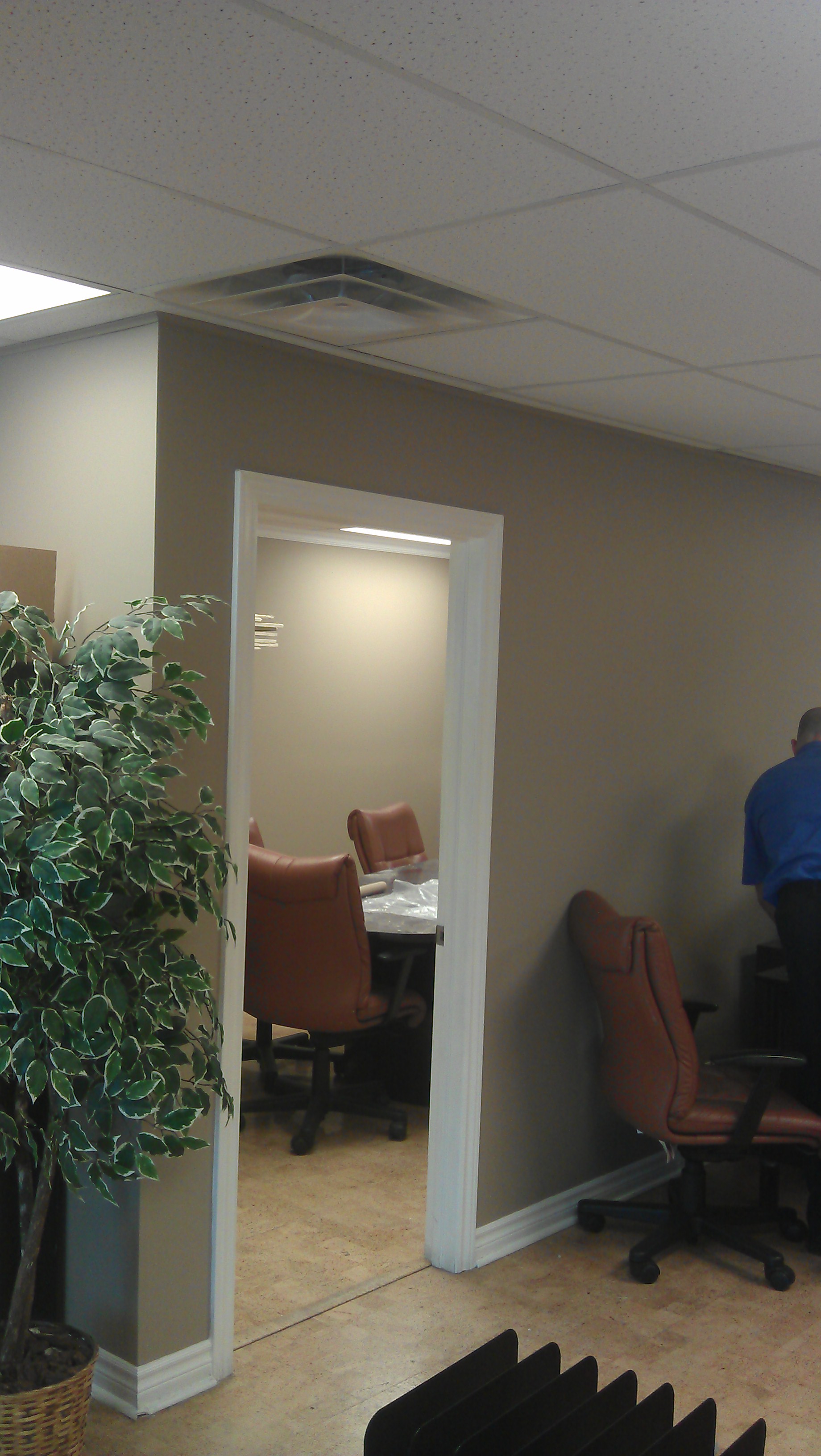 If your office space is dull, "stark," colourless, lifeless, and, just plain "mind-numbing," Hamilton House Painters can help you brighten up not only your office, but, your mood and perspective too!
We think that offices should be more than "four white walls." We will happily consult with you to bring some complimentary colours into your work-day.